Rave reviews for "Alias Grace"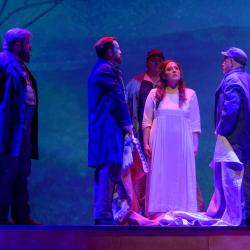 Kerry Clawson of the Akron Beacon Journal says: "Alias Grace is a dark thriller that keeps us constantly in suspense at Weathervane Playhouse as a heavy air of melancholy permeates the story of young Irish immigrant Grace Marks."
 FULL Akron beacon journal REVIEW
David Ritchey of the West Side Leader says: "The cast helps the story's easy flow. King as Marks helps the story flow like a river, sometimes smooth and sometimes in rough rapids. King's performance is worth the price of admission. She is stunning in her ability to move from the quiet servant girl to a screaming, desperate woman."