We are currently running our 8x10 TheatreFest and will update this page when the new prop has been selected and submission information is available. 
All entrants will receive:
Acknowledgment through FormSite of receipt of submissions and administrative fee.
Notification of Eight Finalist plays, on the website, preceding TheatreFest.
Notification of winners, on the website, following the conclusion of TheatreFest.
---
The Prizes
Each of the eight finalists will receive a full production of his/her/their play and two complimentary tickets to TheatreFest. (We can't offer travel and room accommodations for finalists, but those who are able to attend will be greeted, feted, and showered with recognition!)
Additionally, we will send out press releases about the finalist playwrights to our local publications and to any of the playwrights' respective outlets. 
First Place: $350
Second Place: $250
Third Place: $150
Five Runners Up: $50/each
The Rules
Each play must include the 2020 prop, a take out container.  See description below.
Maximum running time is 10 minutes.  Less is fine.
Cast maximum is three, but there can be more than three characters as long as all characters can be played by the maximum of three actors.  Any combo, gender-wise.  No characters under the age of sixteen.
Technical requirements must be minimal. Plays produced are performed on a bare stage utilizing wooden blocks and simple furniture to signify a variety of things. Costume, sound and lighting requirements must also be simple.
No one-person plays, no musicals, or children's plays.
Playwrights must be at least 18 years old.
Submitted plays must be un-produced anywhere and un-performed outside of readings or workshops. Submitted plays may have been entered in other contests.
You must be the sole creator(s) of the play and entitled to confer performance rights.
If chosen as a finalist, you grant performance rights, royalty-free, to Weathervane Playhouse for the at least five performances during the 2020 8x10 TheatreFest.
The play remains the sole property of the playwright(s).
Each year at TheatreFest, the audience chooses a special prop that must be incorporated into the following year's plays.
THE 2020 INSPIRATION — A TAKE OUT CONTAINER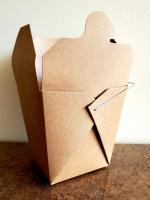 Each year at TheatreFest, the audience chooses a special prop that must be incorporated into the following year's plays.
Our 2019 audience members chose a take out container.
All plays must include a take out container.  It must be seen on stage. The prop may be incidental, tangential, or the centerpiece of the play -- be creative in your use of it! The prop is the container, but DOES NOT NEED TO CONTAIN FOOD. it can have anything that will fit inside of it, or be completely empty. Also for the second time in TheatreFest history, the prop can be damaged or destroyed if your script calls for it. It may also be painted or decorated to not just be the plain brown container pictured above. When closed, the container is 4 inches (10.16 cm) tall, the top is 4.25 x 3.5 in (10.8 x 8.89 cm) and the base is 3.5 x 2.75 in (8.89 x 6.99 cm).
HOW TO ENTER
Please note, there is a $10 administrative fee per submission. Scripts cannot be submitted without payment. You do have to enter your credit card information, minus the CVV number, on FormSite to verify it is a valid credit card. Your card will not be charged, however, until you reenter the information on the PayPal site that you will be automatically directed to. FormSite DOES NOT HAVE THE ABILITY TO CHARGE YOUR CARD, and does not store any of your information.
The first page of your play document must be a title page which should include:
Contact info: name, mailing address, phone numbers, and e-mail address
Title of play
A short summary of the play
Brief descriptions of the characters in the play
Number of pages
Your script should also be numbered. The title page may be numbered as well if that is how you prefer to format.
A few pointers:
Carefully read and review the rules and entry guidelines.
Whenever possible, give your characters names rather than Woman 1, Man A, etc…
Your play can run less than 10 minutes, but cannot run over.  We suggest reading your play out loud before submitting.
Send your play in early for the best possible review and consideration of your work.
Questions? Contact the producer, Scott Davis HERE.