"The Mission of Weathervane's 10 Minute Play Competition and TheatreFest is to promote the art of playwriting, present new works, and introduce area audiences to the short play form.  The competition will provide Weathervane with recognition and expand its reputation for quality and innovative theatre." -- Eileen Moushey, Founder
---
The 2024 set is... a castle!  All finalist plays will be staged on this set.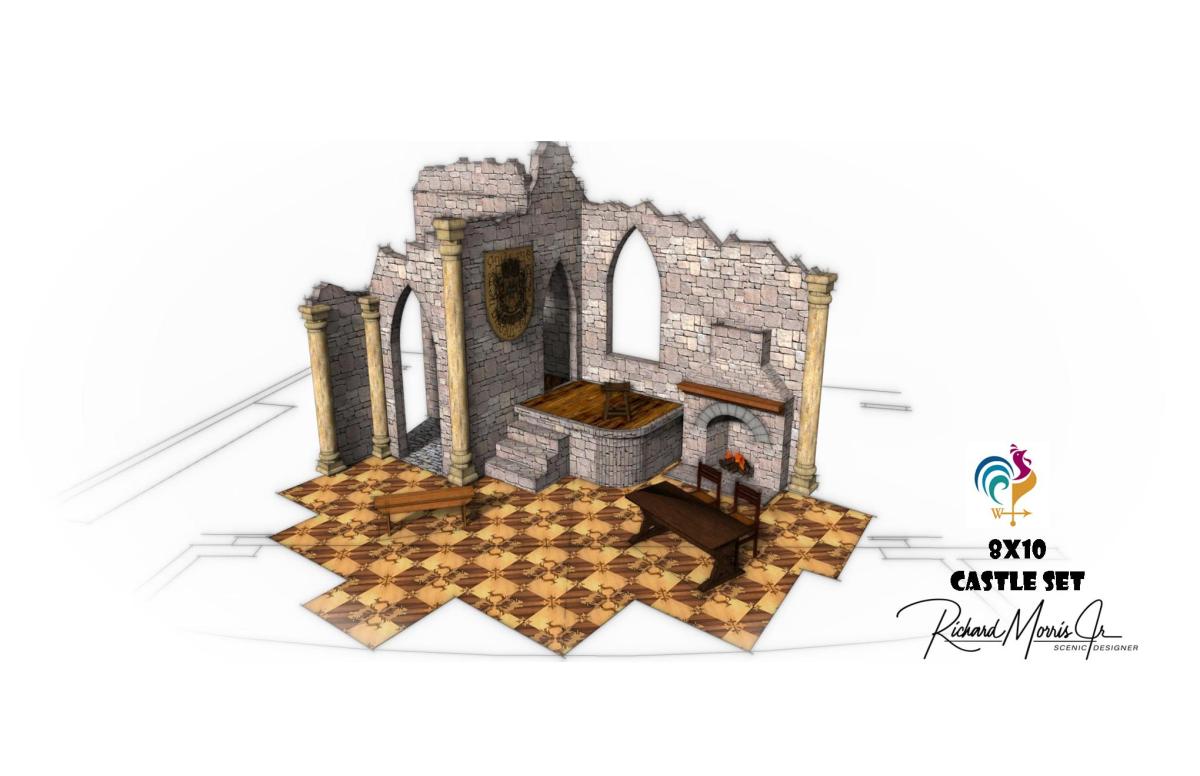 ---
The Rules
Each play must take place on the 2024 set, a castle.
The required run time for each play is 7-12 minutes.  The ideal run time is 10 minutes. 
The cast maximum is three.  More than three characters can be included as long as all characters are intended to be played by three actors. 
No characters under the age of sixteen.
Prop and costume requirements should be simple.  Scenic elements provided.
No one-person plays, musicals, or children's plays.
Playwrights must be at least 18 years old.
The playwrights must be the sole creators of the play and are entitled to confer performance rights.
Finalists agree to grant performance rights, without additional royalty, to Weathervane Playhouse for the performance run of the 2024 8x10 festival.
Plays remain the sole property of the playwrights.
---
All entrants will receive:
Acknowledgment through FormSite of receipt of submissions and administrative fee ($10).
Notification of Eight Finalist plays, on the website, preceding TheatreFest.
Notification of winners, on the website, following the conclusion of TheatreFest.
---
The Prizes
Each of the eight finalists will receive a full production of his/her/their play and two complimentary tickets to TheatreFest. 
At the conclusion of the festival, Weathervane will send out press releases about the finalist playwrights to local publications and any of the playwrights' respective outlets. 
First Place: $500
Second Place: $350
Third Place: $250
Five Runners Up: $100/each
---
HOW TO ENTER
Submissions for the 2024 festival are open until October 15, 2023.
Please note, there is a $10 administrative fee per submission.
The first page of your play document must be a title page which should include:
Contact info: name, mailing address, phone numbers, and e-mail address
Title of play
A short summary of the play
Brief descriptions of the characters in the play
Number of pages
Your script should include page numbers.
Submit here:  8x10 submissions, castle Thank you!
A few pointers:
Carefully read and review the rules and entry guidelines.
Send your play in early for the best possible review and consideration of your work.
---
Questions? Contact Melanie Pepe HERE.