Congratulations to the winning plays from this year's 8x10 TheatreFest!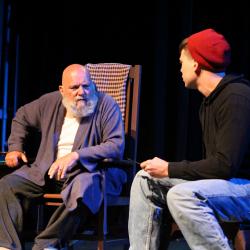 First place is Resisting by Peter Stavros, Directed by Sandra Eaglen; featuring Ralph Cooley and Tyler Gaydosh.
Second Place is Omnipotent by Brandi Eaton; featuring Jeannie Clarkson, Mason Shuman, and Laura Niehaus.
Third Place is Listening by Jennifer O'Grady, Directed by Joshua Larkin, Brooke Lytton; featuring Makenna Bird, Mark Stoffer, and Alex VanAllen.
Congratulations to all and thank you, to The Weathervane Volunteer Guild for sponsoring the event. We'll see you next year!