Congratulations to the 8 finalists in this year's 8x10: The Eileen Moushey TheatreFest!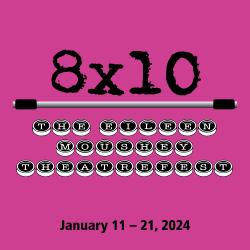 The Eight Semi-finalists have been chosen.  In no particular order they are: 
Going for the Spare by Scott Mullen of Burbank, CA
The Decapitation of Thomas Kent by Michael Hagins of Sunnyside, NY
The Perfect Spot by Elizabeth DeSchryver of Evanston, IL
Clifton Manor-Where Dreams Come True! 
by Steven J Satta of Perry Hall, MD
Death of a Solomon by Barry Wood of Navenby, Lincolnshire, UK
Seeds in Your Pocket by Fiona Leonard of Dusseldorf, Germany
Shakespeare's Ladies Book Club
by Patrick Michael Dukeman of Copley, OH
The Castle, Half-Off by Emily McClain of Lawrenceville, GA
Thank you, to the over 130 entrants from around the globe and congratulations to our finalists!