Announcing Weathervane's 2019-2020 Season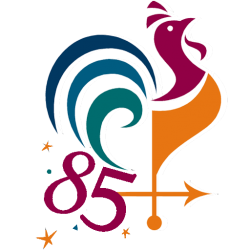 Rock 'N' Roll, Intrigue, Tony Award-Winners, Dancing, and Pinball!
Our 85th Season is Simply Spectacular!
On the heels of a record-breaking, ambitious, and artistically successful 2018-19 season, Weathervane Playhouse is excited to announce an equally impressive 2019-20 season. Filled with rock 'n' roll, mystery, intrigue, regional premieres, Tony Award-winners and classics, our 85th season is sure to delight.
Subscription packages start at $120 and can be purchased by calling 330-836-2626. (Online subscription sales are coming soon!) Special "early bird" subscription pricing is available until May 19.
Single tickets are on sale now!
Most performance days and times are Thursdays, Fridays and Saturdays at 7:30 p.m. and Sundays at 2:30 p.m. — though this can vary from show to show. Weekday "school matinees" will be offered for School of Rock, Joseph and the Amazing Technicolor Dreamcoat, Radium Girls and Memphis.
Weathervane's 2019-2020 season includes:
School of Rock 
Music by Andrew Lloyd Webber, Lyrics by Glenn Slater, Book by Julian Fellowes
August 2 to 18, 2019
An Emerging Artist Series Production
Sponsored by the Akron/Summit Convention and Visitor's Bureau and Helen Davison Fleming
A regional community-theatre premiere! In this musical comedy based on the hit movie of the same name, Dewey Finn is a failed, wanna-be rock star who decides to earn an extra bit of cash by posing as a substitute teacher at a prestigious prep school. There, he turns a class of straight–A students into a guitar-shredding, bass-slapping, mind-blowing rock band. But can he get them to the Battle of the Bands before the parents and the school find out?
The Who's Tommy
Book by Des McAnuff & Pete Townshend, Music by Pete Townshend
Additional music and lyrics by John Entwistle & Keith Moon
September 12 to 29, 2019
A Mainstage Production
Based on the iconic 1969 rock concept album, The Who's Tommy is an exhilarating story of hope, healing and the human spirit. The story of the pinball-playing, "deaf, dumb and blind kid" who triumphs over his adversities has inspired, amazed and puzzled audiences for more than 40 years. This five-time Tony Award-winning musical is a high-energy, one-of-a-kind experience.
And Then There Were None
A murder mystery by Agatha Christie
October 17 to November 3, 2019
A Mainstage Production
This thriller is one of Christie's darkest tales and a masterpiece of dramatic construction. Its growing sense of dread and unfaltering tension will keep you guessing to the very end.
Joseph and the Amazing Technicolor Dreamcoat
Lyrics by Tim Rice, Music by Andrew Lloyd Webber
November 26 to December 22, 2019
An Emerging Artist Series Production
"Sha la la, Joseph, you're doing fine!" This holiday-season family favorite is back for its 18th outing at Weathervane.
Margaret Atwood's Alias Grace
A drama by Jennifer Blackmer adapted from the novel by Margaret Atwood
January 16 to February 2, 2020
A Mainstage Production
A Northeast Ohio premiere! From the author of The Handmaid's Tale comes this true story of an Irish immigrant who worked as a household maid in the mid-1800s and was later convicted of murder. Although set in another era, Margaret Atwood's Alias Grace speaks specifically and almost uncannily to today's audiences. The show addresses issues such as the reception of immigrants, the predatory nature of the powerful, and how others in power conspire to keep their crimes hidden.
Memphis
Music and Lyrics by David Bryan, Book and Lyrics by Joe DiPietro
February 20 to March 8, 2020
A Mainstage Production
Inspired by actual events, Memphis is about a white radio disc jockey in the 1950's who wants to change the world and a black club singer who is ready for her big break. Come along on their incredible journey to the ends of the airwaves — filled with laughter, soaring emotion, and roof-raising rock 'n' roll. Winner of four 2010 Tony Awards (including Best Musical!) and two 2015 Olivier Awards.
Radium Girls
A drama by D.W. Gregory
March 26 to April 5, 2020
An Emerging Artist Production
In 1926, radium was a miracle cure, and luminous watches the latest rage — until the girls who painted them began to fall ill. Inspired by a true story, Radium Girls traces the efforts of a watch-dial painter as she fights for her day in court. Written with warmth and humor, Radium Girls offers a wry, unflinching look at the American obsessions with health, wealth, and the commercialization of science.
Kinky Boots 
Book by Harvey  Fierstein
Music  and  Lyrics by
Cyndi  Lauper
Based on  the  Miramax  motion  picture Kinky  Boots
Written by Geoff  Deane and  Tim Firth
April 23 to May 17, 2020
A Mainstage Production
Winner of six Tony Awards, including Best Musical, Kinky Boots features a joyous, Tony-winning score by Cyndi Lauper, and a hilarious, uplifting book by four-time Tony winner, Harvey Fierstein.
Charlie Price has reluctantly inherited his father's shoe factory, which is on the verge of bankruptcy. Trying to live up to his father's legacy and save his family business, Charlie finds inspiration in the form of Lola. A fabulous entertainer in need of some sturdy stilettos, Lola turns out to be the one person who can help Charlie become the man that he is meant to be. As they work to turn the factory around, this unlikely pair find that they have more in common than they ever dreamed possible... and discover that, when you change your mind about someone, you can change your whole world.
Footloose
Music by Tom Snow, Lyrics by Dean Pitchford, Based on the screenplay by Dean Pitchford
June 4 to 28, 2020
A Mainstage Production
Transplanted from Chicago, newcomer Ren McCormack is in shock when he discovers the small Midwestern town he now calls home has made dancing and rock music illegal. As he struggles to fit in, Ren faces an uphill battle to change things. With the help of his new friend, Willard Hewitt, and a defiant teen named Ariel Moore, he just might loosen up this conservative town. But Ariel's influential father, the Rev. Shaw Moore, stands in the way. To the rockin' rhythm of its Oscar- and Tony-nominated Top 40 score (over 15 million copies sold) and augmented with dynamic new songs for the stage musical, Footloose celebrates the wisdom of listening to young people, guiding them with a warm heart and an open mind.
The 2020 8x10 TheatreFest
July 9 to 12, 2020
A Mainstage Production
Weathervane celebrates the art of the short-format play with our 10th annual 8x10 TheatreFest. Eight plays, 10 minutes each — and curated from submissions from across the globe