Announcing the Cast of Weathervane's Return Production: "Kinky Boots!"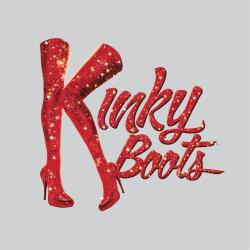 Thank you to all who gave of their time and talents to audition for this production. We hope to see you all around Weathervane very soon.
An Ohio Community Theater Premier Production!
There is no message more powerful than "You change the world when you change your mind." In order to save his father's failing shoe factory, Charlie Price turns to Lola, a fabulous drag entertainer in need of some sturdy stilettos. As the pair work to turn the factory around, they find they have more in common than they ever dreamed possible.
Kinky Boots is sponsored by the Gay Community Endowment Fund of Akron Community Foundation.
CAST
Charlie                                 
RYAN CIRIACO
Lola                                      
ANTHONY WOODS-MITCHELL
Lauren                                 
HEATHER CULOTTA
Nicola
AUDRIE RYAN
Don
ADRIAN GO
George                                
ROBERT PHILLIPS-BROWN
Pat                                        
DANIELLE GRUHLER
Trish                                     
ALLISON HARRIS
Harry                                    
JORDAN POTTER
Richard Bailey                                    
KEN HARDMAN
Simon Sr., Cameo role                                    
  9/30 – 10/3, 2021 -- RANCE MACK
  10/7 – 10/10, 2021 -- BRUCE D. ALEXANDER
  10/14 – 10/17, 2021 -- JAE SNOW
  10/21 – 10/24, 2021 -- VINCENT G. TAYLOR
Mr. Price                             
GARY DAVIS     
Young Charlie
MICHAEL YOUNKIN
Young Lola
KENIYAH MERRITT
Italian Stage Manager, Cameo role                                    
  9/30 – 10/3, 2021 -- TBA   
  10/7 – 10/10, 2021 -- MARCI PAOLUCCI                       
  10/14 – 10/17, 2021 -- TBA              
  10/21 – 10/24, 2021 -- APRIL DEMING
Angels                                   
BILLY CUMMINS
CONNOR MAST
JONATHAN MERECHANT
PETER KOLODZIEJ
NICK SOBOTKA
JACOB SCHAFER
Ensemble
JAY BOUGHNER
JORDAN BOUGHNER
EMMA GOUBEAUX           
AYRON LORD
SPENCER MORGAN
JESSIE POLLAK
MELANIE SCOTT
ARTISTIC CREW
Director
MELANIE YC PEPE
Choreographer
KEVIN LAMBES
Assistant Choreographer
JESSICA HARTLEY
Music Director
JOHN EBNER
Stage Manager
JEANNIE CLARKSON
Assistant Stage Manager
AIDEN BRUECK
Properties Designers
PAM PARKS COSTA
SCOTT DAVIS
Lighting Designer
JACK-ANTHONY INA
Sound Designer
CHRISTOPHER PEPE
Scenic Designer / Technical Director
RICHARD MORRIS, Jr.
Co- Costume Designer
JASEN J. SMITH
Co-Costume Designer
STERLING PERRY
Vocal Coach
RONALD HAZELETT
Makeup Artist 
SAMANTHA ECHO
Dialect Coach 
CHUCK RICHIE 
House Sound Technician
JOHN COYNE