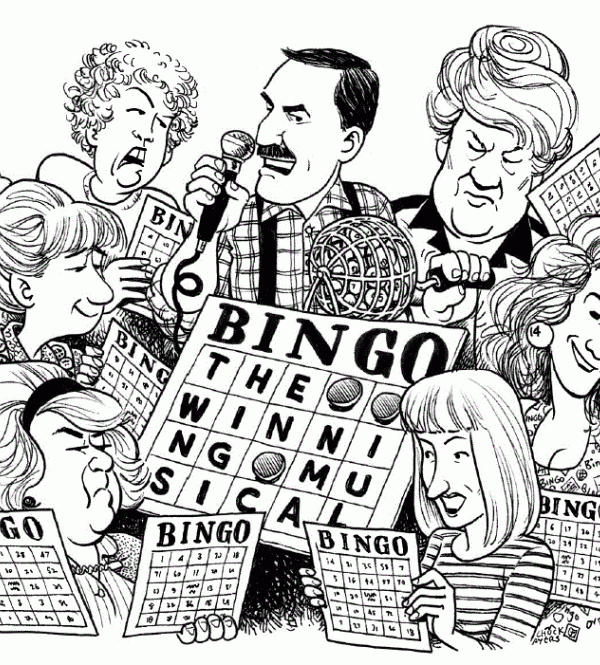 Once a year, Weathervane Playhouse plays host to a special-event, one-night-only benefit performance.
This year, our "usual suspects" of Cleveland-area theater artists have chosen Bingo! The Winning Musical — a splashy, zippy and fun new musical comedy about a group of die-hard bingo players who stop at nothing to miss their weekly game! 
Proceeds will benefit Community AIDS Network/Akron Pride Initiative (CANAPI) & Weathervane Playhouse.
It's Bingo Night at Minnie's Bing-o-Rama, and even a torrential storm won't keep Patsy, Honey, and Vern from their weekly ritual. Armed with troll dolls and lucky charms, Patsy is still waiting for a big win, while Honey is hoping to win the heart of the handsome Bingo caller, Sam. Vern, a self-proclaimed professional Bingo player, is focused on winning at all costs — even after a dispute over a game 15 years ago caused a falling out with her former best buddy, Bernice.
When mysterious newcomer Allison shows up at the hall, Vern shows her the ropes…until Allison's identity is revealed, forcing Vern to come to terms with her past behavior. As the storm rages and the numbers are called, relationships are sorted out and everyone comes out a winner — including some lucky audience members as the crowd plays Bingo along with the cast!
The performance will be a staged concert production; it will be performed in costume with some props, but will not feature sets, lighting effects, etc. The show is performed in two acts with an intermission.
Bingo! The Winning Musical is presented by special arrangement with Samuel French, Inc., a Concord Theatricals Company.
---
Book by Michael Heitzman and Ilene Reid
Music and Lyrics by Michael Heitzman, Ilene Reid and David Holcenberg
Directed by Jonathan Kronenberger
Musical Direction by Butch Marshall
Original artwork logo by Chuck Ayers
AUDIENCE ADVISORY: Bingo! The Winning Musical is recommended for mature audiences. It contains suggestive dialogue. Parents are requested to use their discretion in determining if this production may be suitable for their children.