"Fake it Till You Make It" Adult Improv Workshop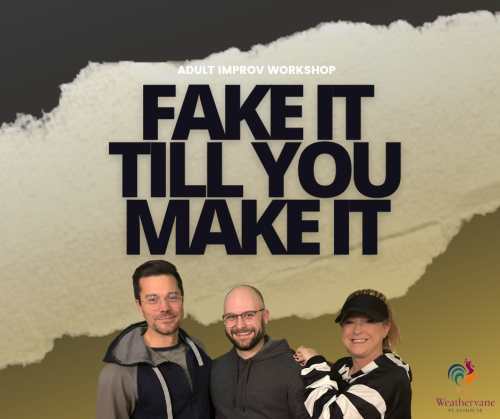 Wednesday, April 26th, 2023
7:00 PM- 9:00 PM
$50 
GET OUT OF YOUR HEAD AND INTO THE PRESENT!
Join us as we learn fun tactics and applicable tools used by improvisers that will embolden your confidence in any situation. Whether it is at an interview or in a new group dynamic, the rules of improvisation are not just a set of guidelines for fun theatre games, but a handbook for day-to-day living and relational building.
No theatre experience necessary! Come for a good time and a lot of laughs!
Justin Edenhofer (Center)
Justin trained in Improv and Sketch Writing at Second City, Chicago and Magnet Theatre in New York City. He has performed with improv troupes Bitesized Improv (NYC), Scared Scriptless and JustImprov (Canton).
Justin has led specialized improv workshops based on community and company needs since 2012 and is currently the casting director for Get Away With Murder, Inc. (Akron)
Kaylene Williams (Right)
Kaylene Williams has worked many venues in Northeast Ohio. She has performed with Something DaDa Improv Company at Cabaret DaDa in Cleveland. She co-founded, directed, and performed with Scared Scriptless Improv Group in Canton. She performs with the Get Away with Murder Inc. on the Cuyahoga Valley Scenic Railway in Akron and has taught improv for over 10 years in public/private schools and in many colleges and universities.
Tim Carmany (Left)
Tim Carmany currently owns and operates The Hub (art gallery) in Canton, Ohio. Tim has performed with Clever Productions in Chicago and Seat of the Pants in Hudson, Ohio. He has also performed with Scared Scriptless Improv Group and MC Comedy in Canton, Ohio. Tim has taught Improv for over 12 years to both adults and children.