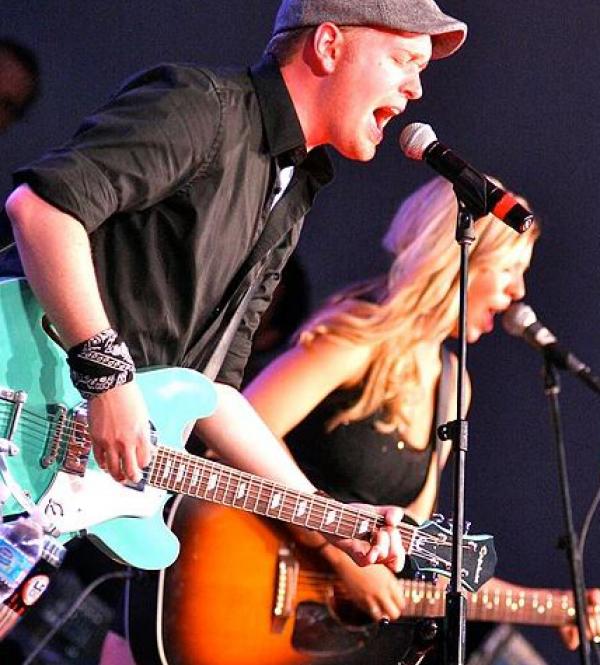 The 12th Annual Ryan Humbert Holiday Extravaganza at Weathervane Playhouse
Friday, December 18, 2020 at 8 p.m.
---
---
An intimate holiday streaming concert featuring Ryan Humbert joined by his longtime singing partner and fellow The Shootouts band member Emily Bates, as well as John Anthony and Ed Davis (of The Vindys), Kevin Martinez (of The Speedbumps), and Clay Colley (of Black Wolf and the Thief).
The show is FREE to stream and will be available to watch on Weathervane's website and Facebook pages.
For the past 11 years, The Holiday Extravaganza has been hosted at the historic Akron Civic Theatre. Due to the COVID-19 pandemic, this year's show will be completely virtual and will take place on the stage of Weathervane Playhouse. For this special fundraising performance, Humbert has partnered with 16 Ohio-based venues and entertainment organizations to simultaneously stream the performance for free on their respective Facebook pages.
"Due to the COVID-19 pandemic, entertainment hubs across the country are forecasted to lose up to $8.9 billion of revenue in 2020," said Humbert. "These venues are extremely critical to our local economies and tax bases as employers, tourism destinations, and revenue generators for neighboring businesses such as restaurants, hotels, and retail."
"Sadly, entertainment venues were the first to be closed and they will be the last to open," continues Humbert. "The economic recovery process will extend way past just reopening the front doors. Live venues and events are an important part of bringing together our communities, and NIVA is helping them survive through the coronavirus pandemic. I'm thrilled to be able to help spread this message far and wide through our generous sponsors and partners."
This year's show will feature a wide mix of holiday classics, filmed on the intimate stage of Weathervane Playhouse. Sound and video are being provided by Clear Gold Audio & Lighting.
Sponsored by Akron AAA Auto Club, Associated Underwriters Insurance & FirstEnergy with additional support from Port-Summit Rotary, Sirak Financial, Clear Gold Audio & Weathervane Playhouse.