Sunday, January 24, 2021
Ages 10 and up
Tuition: $40.00 
Morning Session: 11:00-1:00 p.m. 
Afternoon Session: 2:00-4:00 p.m.
Using scenes from the classic Broadway musical My Fair Lady , this master class/workshop will give students an in-depth overview of the process professional actors use to acquire a dialect. It will also demonstrate the ways to incorporate that dialect into a character and into the action of a play, film or media project. In the process, students will receive a working knowledge of Standard British & Cockney, two of the dialects most often requested of American actors in their work. The instructor will offer individual coaching to each student during the workshop.
About the Instructor: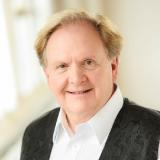 CHUCK RICHIE is a professional voice and dialect coach who has worked on hundreds of plays, films and other media projects for the past forty years. He has coached actors at all levels, from beginners to Broadway veterans and movie stars. Chuck is also a professional actor with New York and Regional credits, and brings that inside knowledge of the actors' process to all his work as a coach. He is Professor Emeritus at Kent State University.