Fridays, February 24 - March 31
6:00 p.m. - 7:00 p.m.
$50
Come and join us at Weathervane as we kick off those worries and heartaches and just enjoy some good 'ole line dancing. In this six-week adult class, we will learn various styles of line dancing as a way to fight stress and the winter blues!

Wednesday, April 26th, 2023
7:00 PM- 9:00 PM
$50 
GET OUT OF YOUR HEAD AND INTO THE PRESENT!
Join us as we learn fun tactics and applicable tools used by improvisers that will embolden your confidence in any situation. Whether it is at an interview or in a new group dynamic, the rules of improvisation are not just a set of guidelines for fun theatre games, but a handbook for day-to-day living and relational building.
No theatre experience necessary! Come for a good time and a lot of laughs!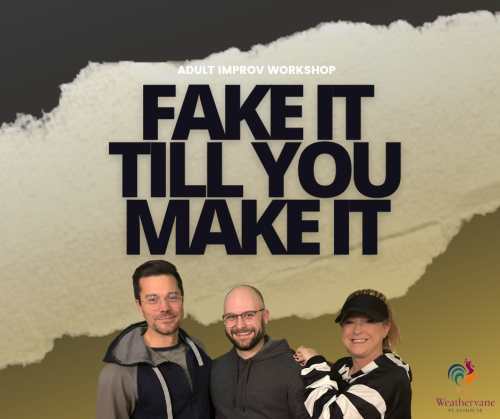 MEET THE TEAM!
This wildly talented group of theatre practitioners will be leading our workshop on April 26 from 7:00 PM- 9:00PM!
Tim Carmany, Justin Edenhofer and Kaylene Williams will make sure everyone feels welcome as they get you out of your head and into the world of improv as we "FAKE IT TILL WE MAKE IT!"