Shoe Drive Fundraiser: Nov 21, 11am - 2pm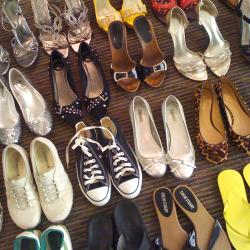 Weathervane Playhouse Launches Shoe Drive Fundraiser to Raise Money for Theater Reopening
(October 5, 2020) – Weathervane Playhouse in Akron is conducting a shoe drive fundraiser on Saturday, October 17, 24, 31 & November 21 from 11 a.m.-2 p.m., to raise funds for its reopening campaign. Anyone can help by donating pairs of new and gently worn shoes at a curbside drop-off at the theater located at 1301 Weathervane Lane.  The donation drop off is designed to be contactless for everyone's safety. The goal is to collect a minimum of 1,000 pairs of shoes.
Working with the social enterprise, Funds2Org, Weathervane will earn funds based on the total weight of the shoes collected and then receive a check from the organization at the completion of its shoe drive. These dollars will benefit the high cost of reopening the theater that has been unable to present live performances since canceling the remainder of its 2019-2020 season due to the COVID-19 pandemic.
All donated shoes will be redistributed throughout the Funds2Orgs network of micro-enterprise (small business) partners. Funds2Orgs works with micro-entrepreneurs in helping them create, maintain and grow small businesses in developing countries where economic opportunity and jobs are limited. Proceeds from the sales of the shoes collected in shoe drive fundraisers are used to feed, clothe and house their families. One budding entrepreneur in Haiti even earned enough to send to her son to law school.
Donors give the shoes a second chance and make a difference in people's lives around the world. "We see this fundraiser as something that almost everyone can help us with," said William Kist, president of the Weathervane Board of Trustees. "And it's a triple win--while we're helping you de-clutter your closets, you're helping Weathervane Playhouse as well as families in developing nations who need economic opportunities."
Weathervane, like so many arts organizations, is seeking creative ways to raise revenue while waiting to reopen. The theater was forced to cancel its live performances and its annual major fundraiser earlier this year, as well as downsize its popular education programming. A reopening date has not yet been announced. Visit the theater online at www.weathervaneplayhouse.com for more information or to donate to the reopening campaign.