Auditions for "Sister Act"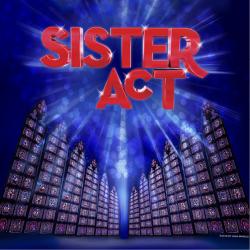 Musical Comedy
Music by Alan Menken
Lyrics by Glenn Slater
Book by Cheri & Bill Steinkellner
Additional Material provide by Douglas Carter Beane
Based on the Touchstone Pictures Motion Picture, Sister Act, written by Joseph Howard
The musical adaptation of the hit 1992 film, featuring original music by Tony- and eight-time Academy Award-winner Alan Menken, and nominated for five Tony Awards (including Best Book, Best Musical, and Best Score).
Auditons will be December 4, from 5:00 p.m. to 8:00 p.m and December 5 and 6, from 6:00 p.m. to 9:00 p.m.
Please bring a current headshot/resume and prepare one 32-bar cut in the style of the show, but not from the show itself. An accompanist will be provided. Please bring sheet music in the correct key. No acapella singing. Please also bring clothes and shoes to move in.
Bring your calendar with you in order to declare any conflict dates for rehearsals.
Callbacks will be held on Wednesday, Dec. 7, time TBD, and are by invitation only. 
REHEARSALS
Rehearsals will run Mondays through Fridays from 6:30 to 9:30 p.m.
Technical rehearsals are mandatory and take place:
Saturday, February 18:  2 to 8 p.m.
Sunday, February 19:  2 to 8 p.m.
Monday, February 20: 6 to 11 p.m.
Tuesday, February 21:  6 to 11 p.m.
Wednesday, February 22:  6 to 11 p.m
Sister Act runs for a total of 16 performances from Feb. 23 to Mar. 19, 2022. 
Thursdays, Feb. 23, Mar. 2, 9 and 16:  Call at 6/6:30 p.m.  Show at 7:30 p.m.
Fridays, Feb. 24, Mar. 3, 10 and 17:  Call at 6/6:30 p.m.  Show at 7:30 p.m.
Saturdays, Feb. 25, Mar. 4, 11 and 18:  Call at 6/6:30 p.m.  Show at 7:30 p.m.
Sundays, Feb. 26, Mar. 5, 12, and 19:  Call at 1/1:30 p.m.  Show at 2:30 p.m.
ATTENDANCE AT ALL PERFORMANCES IS MANDATORY.
We are seeking a diverse cast of talented and dedicated actors, singers and dancers. All roles are available. Character descriptions are attached below.