Audition: Joseph and the Amazing Technicolor Dreamcoat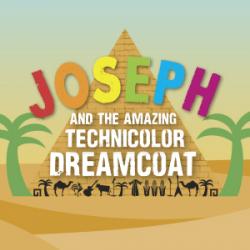 The Biblical saga of Joseph and his coat of many colors comes to vibrant life in this delightful musical parable!
Audition Dates
Sunday, September 29, 2019 (from 5:30 to 8:30 p.m.)
Monday, September 30, 2019 (from 5:30 to 8:30 p.m.)
Auditions are scheduled in advance by appointment.
Audition appointments are available each night in five-minute slots.
About the Show
Joseph, his father's favorite son, is a boy blessed with prophetic dreams. When he is sold into slavery by his jealous brothers and taken to Egypt, Joseph endures a series of adventures in which his spirit and humanity are continually challenged. He is purchased by Potiphar -- but then he finds that thwarting romantic advances from Potiphar's wife lands him in jail! When news of Joesph's gift to interpret dreams reaches the Pharaoh (wryly and riotously depicted as a rock star!), Joseph is well on his way to becoming second in command.
Returning to the Weathervane stage for the 18th season of this Akron holiday-season tradition, Joseph is high-energy, entertaining family fun like no other.
Music by Andrew Lloyd Webber
Lyrics by Tim Rice
Directed by Joshua Larkin
Musical Direction by Steven A. Miller
Choreography by Marissa Leenaarts
Casting Requirements
We are seeking a diverse cast of talented and committed dancers and singers ages 10 and older for this high-energy musical classic. All roles are available to auditioners of any ethnicity and qualifying age.
How to Prepare
Please bring a headshot and/or resume, if you have one.
Please prepare 32 bars of a song in the style of the show — but NOT from the show itself.  Please bring sheet music for your song (in the appropriate key) with you to the audition; an accompanist will be provided.
Please bring your calendar with you to the auditions in order to declare any scheduling conflicts between October 13th and November 25th. 
A dance audition will be held. Please bring dance or tennis shoes and dress appropriately.
Please arrive fifteen minutes prior to your scheduled audition time to complete audition forms.
Rehearsal Times
Rehearsals begin the week of October 6th and will typically be held Sundays through Thursdays from 6:00 to 9:00 p.m. 
Technical rehearsals take place Sundays through Thursdays beginning November 18. Attendance at all technical rehearsals is mandatory.
Performance Times
Joseph and the Amazing Technicolor Dreamcoat will play for 19 performances in Weathervane's Founders Theatre between Tuesday, November 26 and Sunday, December 22, 2019.
Performances days and times:
Mondays and Tuesdays at 10:00 a.m.
Thursdays, Fridays and Saturdays at 7:30 p.m.
Sundays at 2:30 p.m.